Covid in Scotland: TV ban for bar after Scotland win celebrations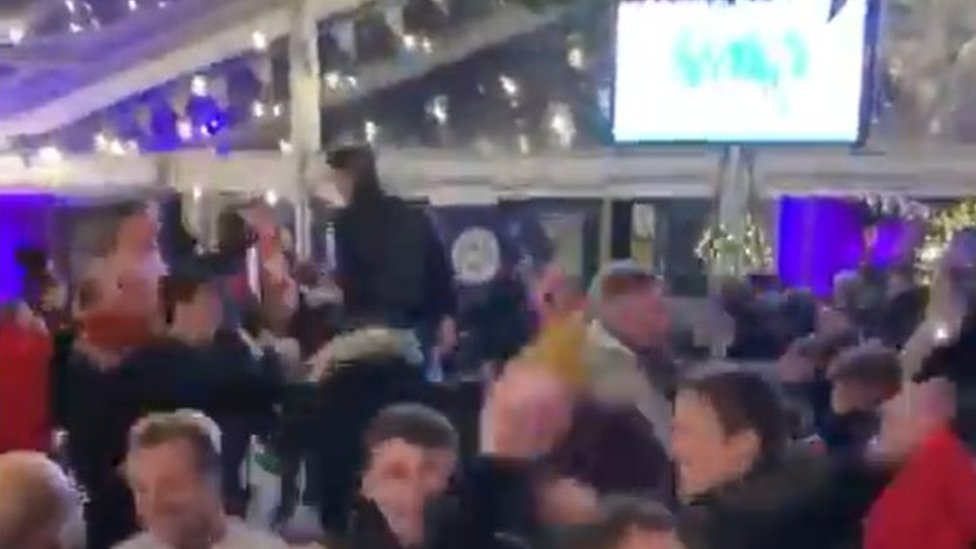 A bar where fans were filmed celebrating Scotland's Euro 2020 win in apparent breach of Covid rules has been ordered to remove all televisions.
Jubilant fans cheered, danced and hugged at the Draft Project in Aberdeen as Scotland beat Serbia on penalties.
The owner of a pop-up bar has said he was "shocked" by the footage.
Stuart Clarkson, owner of PB Devco, said they "misjudged what was likely to happen" and staff were unable to calm the customers down.
Aberdeen City Council has now ordered the bar to remove all televisions by midday on Sunday.
A spokeswoman said: "There is no legal mechanism for the Licensing Board to revoke an occasional licence which lasts a maximum of 14 days. Occasional licences are applied for every fortnight.
"However, officers from Environmental Health and Trading Standards at Aberdeen City Council have served a notice of direction on the Draft Project in Aberdeen.
"The direction includes a requirement to take action to help prevent the spread of Covid-19 and remove all televisions at the Draft Project.
Police Scotland are also investigating whether Covid distancing rules were breached at the pop up bar, whic has seating for 280 people in Aberdeen city centre, and was showing the Belgrade match on a big screen.
Its owner PB Devco also runs the nearby Soul Bar, which was involved in a Covid-19 outbreak earlier in the year and where eight Aberdeen FC players visited in breach of the coronavirus rules at the time.
Mr Clarkson has promised a "thorough review" into the latest incident, where police had to help bar staff calm the crowd after the first goal was scored.
'Upset understood'
He said: "Having seen the videos I am shocked, disappointed and saddened.
"This simply is not acceptable and I understand why people are so upset by this."
He said it was clear they "misjudged" what was likely to happen and were "simply unable to contain the outbreak of joy at Scotland's success".
Mr Clarkson added: "I will now be carrying out a thorough review of what went wrong and what steps we have to take to prevent any such repeat incidents. We will also comply fully and assist any reviews or investigations by the police, Aberdeen City Council or the Scottish government."
The issue was raised during Friday's daily coronavirus briefing by Deputy First Minister John Swinney.
While he congratulated the Scotland team on reaching the first major men's tournament for more than 20 years, Mr Swinney said he had seen the footage and was aware that a number of fans had been "ejected" from the pub during the match.
He said: "It's really important that the police and environmental health licensing authority look very carefully at all the circumstances to ensure that the arrangements that were in place were appropriate.
"I am advised by the police that a number of individuals were ejected from the premises because they did not follow the physical distancing requirements that the pub required and it demonstrates that there was intervention to make sure the rules were being followed.
"It is very important that everybody follows the physical distancing rules at all times."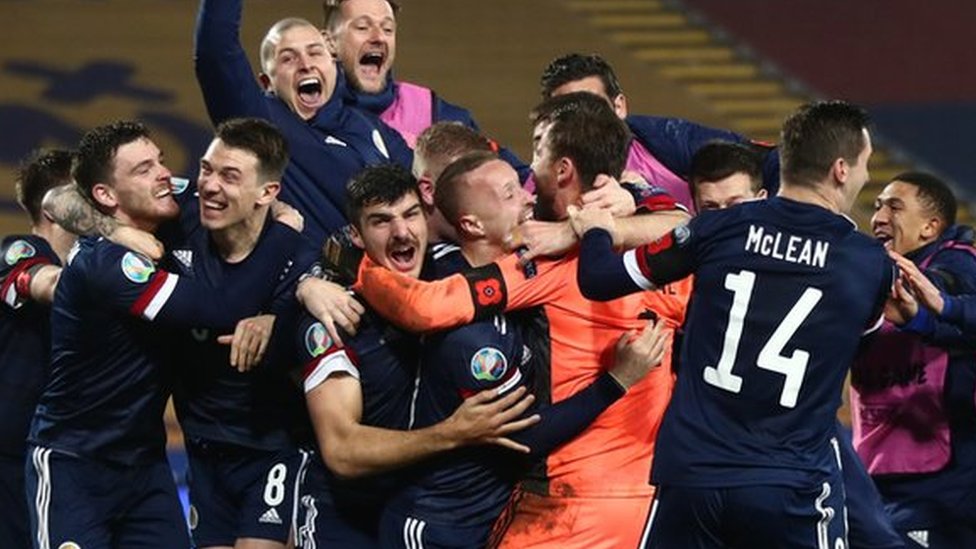 Mr Swinney highlighted the comments of Susan Webb, director of public health at NHS Grampian, who tweeted: "While I cannot comment on these specific circumstances, I can say this – this virus does not rest. It does not take a minute off, much less 90 minutes, extra time and penalties.
The footage was first highlighted by SNP Aberdeen Central MSP Kevin Stewart, who tweeted that it showed "clear breaches" of Covid regulations.
He said: "Let's be completely honest about this, the scenes in that particular venue last night were a disgrace and have put people in our city at risk."
Police Scotland said there were no arrests or fixed penalty notices issued on Thursday evening during the match.
Ch Insp David Howieson added: "We are aware of footage circulating on social media following the Scotland game last night.
"Officers were on patrol within the city centre throughout the evening and in attendance at the premises in question where they supported staff who ejected a number of patrons following a spontaneous reaction to the first Scotland goal."
The Scottish Hospitality Group trade body described the scenes as "nothing short of disgraceful".
Stuart McPhee, of the Aberdeen Hospitality Together group, said the images did not represent hospitality businesses in the city.
He tweeted: "We are all working hard for our survival and understand our duty to protect public health."
Scotland's 23-year absence from major men's tournaments ended with the victory over Serbia.
They will face England, Croatia and the Czech Republic in Group D at next summer's finals.