The Ashes 2019, second Test, day five LIVE: Australia vs England at Lord's
This is pretty funny
The great Chris Barrett and former Australian captain Mark Taylor reflect on a remarkable day four
Advertisement
Malcolm Knox on Smith and Archer battle
By Malcolm Knox
That glass box inside which Steve Smith does his work is built from three dimensions of oblivion. His concentration shuts out other people, so he is ferociously alone. With nobody outside, he is unusually candid in his mannerisms, so that at times we feel we are spying on an uninhibited, obsessive child shadow-batting in his bedroom. The third dimension is forgetting time, both past and future, no matter how traumatic or worrying.
When a fast bouncer from Jofra Archer hit him in the neck at Lord's on Saturday, Smith went into a momentary twilight zone. His mime artistry, which sparks so much fascination, became for a few seconds a horror show. His head flung back and he dropped, limp, to the turf. He went down with the expressiveness that marks all his actions on a cricket field. This time it expressed the purest fear of a young man in the instant of wondering if this is when he dies.
READ MALCOLM KNOX'S BRILLIANT PIECE HERE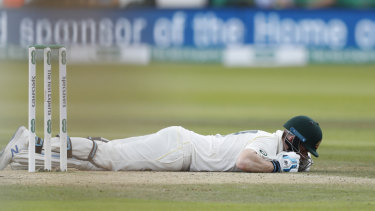 Bt of rain about
The early word from London is that it's bucketing down. Covers are on but there are hopes it might stop before 11am (8pm AEST).
Strap in!
G'day and welcome to our coverage for the final day of what has been an engrossing second Test at Lord's.
Here is the situation – England are 104 runs ahead of Australia with six wickets remaining. There'Read More – Source