Manner in which banned players have returned is more telling than the cheating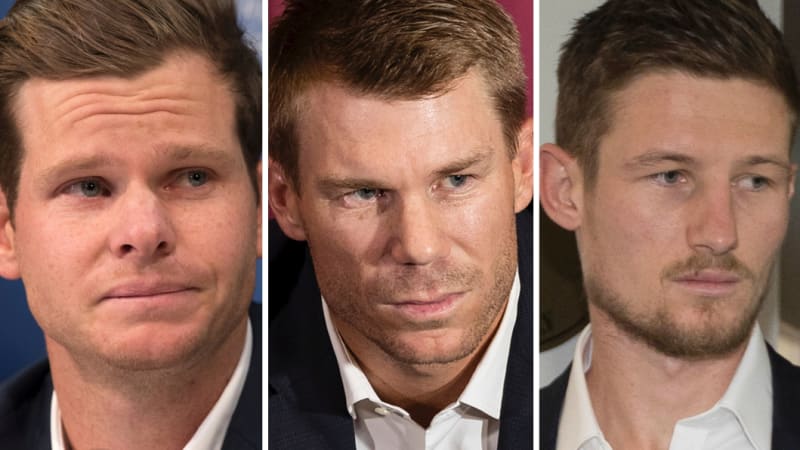 Hearing Cameron Bancroft and Steve Smith address their respective "journeys", from darkness to light, is more telling of this sporting era than the cheating was.
Bancroft is even addressing himself in public, a tactic that, left alone, defies his claims of self-awareness.
The drama of scratching a cricket ball to see if it swings seems antiquated, even unremarkable in comparison to this, and the other demonstrations of personal growth and redemption the players have presented.
Seeing those television interviews you had to wonder where was the gentle Foxtel approach to this story when it broke, when those players where being minced as traitors?
Fans have never be so rolled-over by big money than they were seeing Adam Gilchrist, who, playing both legendary mate and disappointed statesman, held a gentle microphone. There isnt much incentive for someone like Gilchrist to break down a players jargon (a kinship exists between players, retired or not) but the whole exercise seemed staged for the players to advertise the changes inside them.
Advertisement
Perhaps Bancroft and Smith are only giving us what weve demanded, the new-age, psychotic spin
on contrition that follows public admissions of guilt. Even the prime minister felt it necessary to offer his disappointment, such was the emotional squeeze on these guys.
Its easy to see now that they really are just young men playing cricket, and should have been treated that way from the start. Even Bancroft said (to himself, of himself), "You are not a professional cricketer. You are simply Cameron."
And what can we fairly expect from simply Cameron? I suppose enough awareness to not blame
David Warner for his troubles.
Still, you feel for Bancroft. He seems like an earnest guy trying, with limited help, to make good on a nasty experience. And he is not a politician. But he has revealed too much of himself to warrant more sympathy, a failure of branding you might say. Id sooner see his ban extended than be subjected to another mirage of his personal values.
Its possible no one in the discourse of Australian life is taking themselves more seriously than
our sportspeople now. There are good reasons for this, and one of them is that professional sport
is hard, so the athletes mind hardens around it.
Further to that, sportspeople have transitioned from being conduits for outrage and scandal, to also having to show the softly lit path of growth and calm that guides their image in recovery. I suppose excessive criticism is always going to precede excessive redemption, but these cricketers have all but disappeared behind a wall of well-meaning concepts.
Needless to say, an athletes education is limited while they are playing for money (Bancroft and
Smith claim to be learning about themselves in exile from the sport), and lately we might have
witnessed those limits.
Bancroft seems to have given himself over to the mystical, and Smith to the jaws of marketing. "Gutsy is calling," his Vodafone ad said.
There was a time when you could say that anyone capable of agreeing to that advertisement was mad, and everyone could agree. In 2019, it is less certain. Maybe the joke is on us. After all, it is an established rule that you cannot publicly demean a person and not also pay them to explain how theyve grown in the aftermath.
It is our wont as an audience with nothing at stake to keep watching, regardless. Usually a story has to evolve to continue, but this one appears to have devolved into advertising and wellness cliches that are well suited to sports marketing. The rhetoric is related to personal branding, to growth and awareness, and whatever other corporate trends reflected in team sports.
You could begin 2019 with the selfie at the net, move on to an Instagram post of some smiling Pilates start-up, and find that the possibilities for your health are endless.
"You have no idea how amazing you are as a person," Bancroft wrote to himself. It is a sentence, you suspect, he could not write again next year, and a sentiment that would not have been possible to express five years ago.
The further Bancroft and Smith travel towards what even David Warner called his "best self", the more one yearns for the ugly days when the cheaters got away with it, and the dull sledges moved from cheapness to genuine wit and competition. That really is central to the drama of Test cricket, and it is hard to believe how few people are willing to acknowledge that.
There was, from the beginning of this story, some distance between sports fans reaction to the ball tampering and the reality of playing professional cricket.
It was demonstrated by Bancrofts failure to say the word "sandpaper", even after he was caught. Some people took that as a further sign of his failings, just another lie, but perhaps it was more diplomatic than it appeared. He might have been trying to close the gap between his world and ours by using the slightly less sinister image of some tape with sand on it.
That he bothered to say that proves how startled they were by the publics reaction, hence how close to normal that behaviour must have been for them. It would also explain why the truly strange part of the story has not been their absence from cricket, but the way they have returned.
Timothy Boyle is a sports columnist with The Sunday Age
Most Viewed in Sport
[contfnewc] [contfnewc]