Snowmen and snowploughs: A night stuck on the M74
Hundreds of motorists spent the night stuck on the M74 in Scotland after heavy snow and ice brought the motorway to a standstill.
Retailer Fergus McCann, who was stuck for seven hours, tells Sky News how he whiled away the time – and why he takes his hat off to the emergency services, rescue teams and gritter drivers.
I set off from a work meeting in Stoke at around 4pm, heading home to Motherwell, but by 6.30pm we were stuck on the motorway. I was travelling with a colleague who was heading back to Edinburgh.
By 10pm we were still stuck, so to entertain myself I ended up getting out of my car to build a snowman. The chap in the car in front got out to help me, but ended up getting so cold he had to give up and get back in his car.
I tweeted Police Scotland to find out how long we'd be stuck, and to check how long I had to finish it. They didn't get back to me, but I ended up having plenty of time.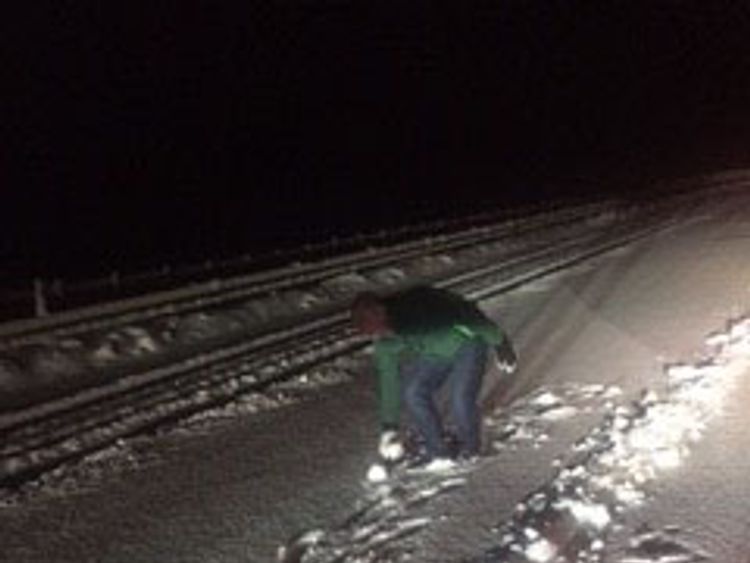 There were plenty of police around, and big gritters with snowploughs on the front. Every time the plough came through it was good news because it meant we could move forward a little bit.
Some impatient motorists were using the hard shoulder to try to cheat their way through the traffic – not the cleverest move. They were stopping the gritters and police getting through, and just making things worse.
We had seen that there were lots of problems on the roads before we set off, so we had picked up provisions at a petrol station before we got going, and filled up with petrol.
Because I knew we were okay for fuel I must admit I kept the engine running most of the time, and kept the heating going as it was pretty cold outside.
I texted my wife to let her know I wouldn't be home, and she stopped waiting up and went to bed.
My colleague grabbed a nap, but I stayed awake as I was never sure if traffic might start moving again.
I ended up getting back home at 3am, so all in all, we were stuck for seven hours. I grabbed a few hours' sleep, but I'm one of the lucky ones as I can work from home today.
More from Opinion
"I take my hat off to the emergency services, rescue teams and gritter drivers – they really were doing their best in a difficult situation and it's a pretty remote location.
"They always get the grief when transport is hit, but given the volume of snow there is nothing more they could have done in a really challenging situation."
[contf] [contfnew]
[contfnewc] [contfnewc]