'Severe pressure' hits nine in 10 ambulance services
Nine of the 10 ambulance services in England have declared the second-highest level of alert in response to the NHS winter crisis, indicating they are facing "severe pressure".
Ambulance trusts operate four alert levels known as Resource Escalation Action Plans (REAP), ranging from level one, indicating a steady state, to level four for extreme pressure.
A Sky News survey found only the London Ambulance Service was operating below REAP level three. It is currently on REAP level two, which indicates moderate pressure.
The other nine – the East Midlands, East of England, North East, North West, South Central, South East Coast, South Western, West Midlands and Yorkshire ambulance services – have all declared REAP level three.
The news comes after an 81-year-old woman died last week in Clacton, Essex, while waiting almost four hours for paramedics to arrive.
Sky News spent a day with West Midlands Ambulance Service (WMAS), which operates about 350 ambulances from 15 hubs across the region, with 99% of ambulances crewed by at least one paramedic.
:: Why is there always a winter crisis in the NHS?
The service has received a record number of calls this winter, with the control centre handling 15% more than this time a year ago.
Pressure on hospitals means they have also been affected by "handover delays", which is when it takes longer than the recommended 30 minutes to pass a patient to hospital staff and prepare the ambulance for the next call.
WMAS said more than 900 patients have had to wait more than an hour, and the delays are costing them the equivalent of 23 12-hour shifts every day.
Several hospitals served by the trust, including those in Worcester, Stoke and Dudley, have faced severe pressure over the New Year period.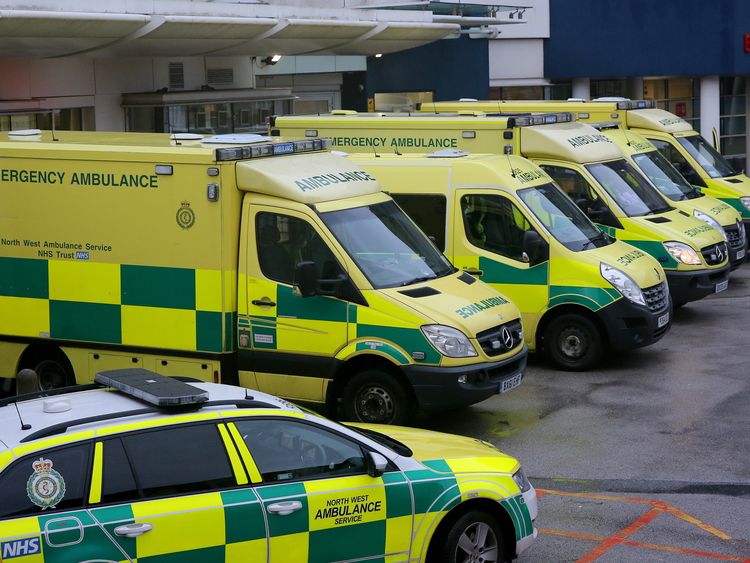 A high number of callouts that do not require hospital treatment is also impacting the service, with only 60% of calls requiring transportation to hospital or other medical services.
Travelling with paramedic Simon Wong and technician Sonia Nawaz, we saw them deal with a succession of elderly patients, some of whom did not need urgent medical care but were transported to hospital because a lack of social care meant it was unsafe for them to remain at home.
Nathan Hudson, an assistant chief officer at WMAS, said: "You hear lots of things about the NHS being in crisis but for us this is just winter, and it comes every year.
More from NHS
"We have found it incredibly challenging not just with the excessive demand and on top of that we had the snow that came before Christmas. Staff have been fantastic, without them we would not have been able to cope.
"The biggest danger of delays is patients' safety. When ambulances are delayed at hospital they are not out on the road getting to patients who need them."
[contf] [contfnew]
[contfnewc] [contfnewc]