Your most-read Scottish stories of 2017
The BBC Scotland news website has looked back at our most-read stories of the year. Here is the top 20 for 2017, with the ranking based on the number of page views.
1. Funny money
In a year where humour was sometimes in short supply, the most-read story on the BBC Scotland news website was basically a list of jokes.
At the Edinburgh Fringe in August, comedian Ken Cheng told a joke that he described as a "groaner".
It went on the shortlist for the 10th annual Funniest Joke Of The Fringe, organised by TV network Dave, and won the top prize.
Here's the joke: "I'm not a fan of the new pound coin, but then again, I hate all change."
Should you want a laugh, or a groan, there are more of the shortlisted jokes here and links to previous years.
2. Parking not fine
In April, a woman in Dundee was ordered by a sheriff to pay a private parking company £24,500 in unpaid charges.
Carly Mackie had ignored hundreds of parking tickets for leaving her car at the city's Waterfront without a permit. She claimed the private parking tickets were unenforceable.
Unfortunately for her, Sheriff George Way said the charges were from a "valid contract" and she was liable for them.
He said Ms Mackie had "entirely misdirected herself" on both the law and "the contractual chain" in the case.
3. Wedding dress found
Tess Newall was distraught when a 150-year-old wedding dress, which had belonged to her great-great grandmother, went missing after her dry cleaners went bust.
The 29-year-old had worn the dress when she got married in East Lothian in June last year and her father took it to be dry cleaned a couple of months later.
Kleen Cleaners in Edinburgh shut down while the dress was in the shop and Ms Newall posted on social media about her "heartbreak" over the loss of her dress.
Then in February, she posted an update on social media saying the dress was found "in a crumpled heap" at the closed shop.
Ms Newall told the BBC she was "absolutely over the moon" at the discovery.
4. Leaving on a jet plane – alone
A woman who paid just £46 for a flight to Crete was amazed to find she was the only passenger.
The Jet2 flight from Glasgow to the Greek island would normally carry 189 passengers but Karon Grieve, from Ayrshire, had the "surreal" experience of getting the entire plane to herself.
There had been three passengers booked on the flight but the other two failed to turn up.
Karen said she was given the VIP treatment and all the flight crew knew her name.
She said: "We were all on best friend terms before we'd even got on the plane."
5. 'Wholly exceptional decision'
In March, a man who admitted a rape charge involving a 12-year-old girl walked free from court.
Rape laws, which were strengthened in 2009, do not allow any child under the age of 13 to give informed consent about sexual intercourse.
Daniel Cieslak was 19 when he met the 12-year-old girl in a taxi queue in Edinburgh in July 2015.
He said he believed she was 16 and burst into tears when police later revealed her true age.
The judge, Lady Scott, said she was taking the "wholly exceptional decision" not to sentence Cieslak.
Instead, she gave the first offender an absolute discharge at the High Court in Glasgow.
The judge said: "I do not consider there is any need for, or public interest in, punishment. To do so would in my view be disproportionate given the nature of the criminal culpability here."
6. Hotel fire
In mid-December, two guests died when fire broke out at the Cameron House Hotel beside Loch Lomond.
More than 200 guests were evacuated from the luxury resort after the alarm was raised at about 06:40 on a Monday morning.
Police said one person was pronounced dead at the scene while another died after being taken to the Royal Alexandra Hospital in Paisley.
A newly-married couple and their young son were taken to hospital for treatment and later discharged.
The hotel, near Balloch, was extensively damaged.
7. Seeking a second referendum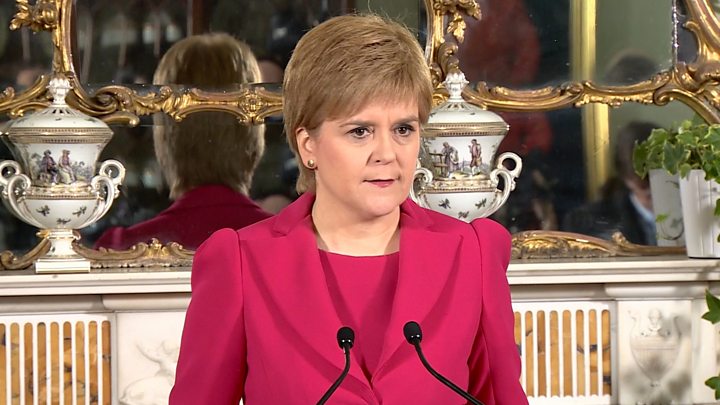 The political events of 2017 have been fast-moving.
In the wake of the UK voting the previous summer to leave the EU, Scotland's First Minister Nicola Sturgeon had warned that such a material change to the constitution could lead to a second independence referendum.
By March this year, Ms Sturgeon was ready to set the ball rolling.
She confirmed that she would ask Westminster for permission to hold a second referendum on Scottish independence.
And she said she wanted a vote to be held between the autumn of 2018 and the spring of the following year to coincide with the expected conclusion of the UK's Brexit negotiations.
8. Aircraft carrier goes Forth
HMS Queen Elizabeth – one of two new Royal Navy aircraft carriers being built at Rosyth dockyard in Fife at a cost of more than £6bn – left its home port for the first time in June.
It is the largest warship ever built for the Royal Navy. The flight deck alone is the size of three football pitches.
Once in service the ship can operate with a crew of 1,000 and 40 aircraft.
The 65,000 tonne warship is the Royal Navy's first aircraft carrier since HMS Illustrious was scrapped in 2014.
9. Second referendum on hold
The "snap" general election in June added extra change and confusion to an already complex political landscape in the UK and in Scotland.
After the election, First Minister Nicola Sturgeon said she was putting her independence referendum plans on hold.
Ms Sturgeon had been considering her options after the SNP lost 21 seats in the general election.
The first minister told the Scottish Parliament she would delay her plans to introduce legislation for a referendum to be held in late 2018 or early 2019.
However, she later told journalists she believed it was still "likely" there would be a second referendum on independence during the lifetime of the current Scottish Parliament, which is due to last until 2021.
10. Girl accuses school of war crimes
In May, an 11-year-old girl's assertion that her school was guilty of a war crime went viral.
Her father, Gavin Bell (also known as author Mason Cross), revealed on Twitter that his daughter Ava had gone rogue on a pupil feedback form.
She criticised the policy of punishing a whole class for one person's bad behaviour – by citing the Geneva Conventions.
"Not sure if I should ground her or buy her ice cream," Mr Bell mused.
11. I'm out
A tech start-up firm which thought it had secured a £100,000 investment on the BBC's Dragons' Den TV show had the funding pulled, it was revealed in January.
Shortly after the show was aired, technology entrepreneur Peter Jones tweeted that his investment did not go through.
He said "some issues arose during due diligence".
The Glasgow-based firm had hoped to use the money to help fund the expansion of its Bluetooth tracker, Xupo.
The coin-sized tracking sensor helps people find misplaced personal items.
12. John Leslie arrested
In November, former television presenter John Leslie was charged with sexually assaulting a woman in an Edinburgh nightclub.
The 52-year-old former Wheel of Fortune and Blue Peter star was alleged to have put his hand up the woman's skirt.
The 26-year-old woman was on a hen night when the alleged incident took place at Atik in the city's Tollcross area.
It is said to have occurred at an event to mark the club's re-opening in June.
13. Brexit meeting
At the end of March, just days before the prime minister formally triggered Article 50, Theresa May and Nicola Sturgeon held talks in Glasgow.
Scotland's first minister said the talks were cordial but she was "frustrated by a process that appears not to be listening".
Triggering Article 50, the official mechanism for starting the process of the UK leaving the EU, meant two years of Brexit negotiations were under way.
The prime minister repeated her opposition to an independence referendum during the Brexit process.
The first minister said a fresh independence vote was needed ahead of Brexit to allow the people of Scotland to choose which path to follow.
14. 'Now is not the time'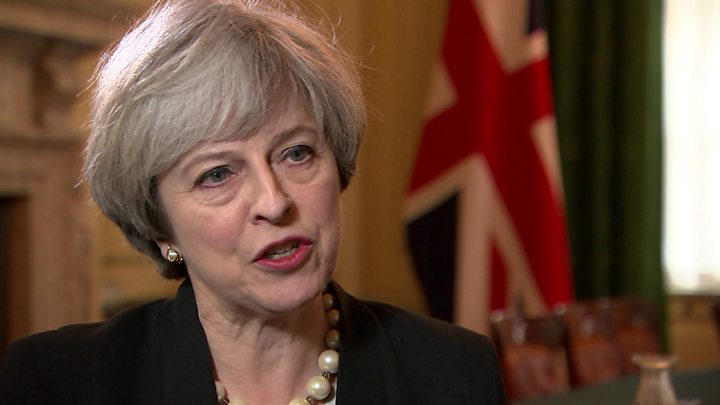 March was a big month for politics.
In the run-up to triggering Article 50 and starting the two-year process of leaving the EU, the Scottish government was pressing for a second Scottish independence referendum before Brexit.
Prime Minister Theresa May responded by saying "now is not the time".
The prime minister said the focus should be on getting the best Brexit deal for the whole of the UK.
Scotland's First Minister Nicola Sturgeon said blocking a referendum would be a "democratic outrage".
15. Footballers ruled as rapists
In January, a former Scotland international footballer and his ex-teammate were ruled to be rapists and ordered to pay £100,000 damages despite never facing a criminal trial.
Denise Clair, who was left "devastated" by a Crown decision not to prosecute, sued striker David Goodwillie and his former Dundee United colleague David Robertson.
She claimed they raped her at a flat in Armadale, in West Lothian, after a night out in Bathgate in January 2011.
It was the first civil rape case of its kind in Scotland.
16. I'm a Labour MSP … get me out of here!
On the same day that Scottish Labour unveiled its new leader, the old one announced she was off to appear in a reality TV show in the Australian jungle.
One of the first tasks of new leader Richard Leonard was to say he would consider suspension for his predecessor Kezia Dugdale.
Ms Dugdale, who is still an MSP, was revealed as a surprise contestant in ITV's I'm A Celebrity… Get Me Out Of Here! programme.
Mr Leonard said he was a "bit disappointed" by her participation.
17. Longest criminal trial
After a trial spanning 20 months, a husband and wife from Renfrewshire were found guilty of fraud at the High Court in Glasgow.
Evidence was heard over 320 days, making it the longest trial in UK criminal history.
Edwin McLaren, the "brains behind the scheme", was convicted of 29 charges of property fraud and his wife Lorraine of two.
The trial at the High Court in Glasgow began in September 2015 and ended in May 2017.
It is thought to have cost about £7.5m, with more than £2.4m in legal aid paid for defence lawyers.
18. Red Rum bet
Bob Holmes was going through his late father-in-law's paperwork when he found a betting slip from 1974's Grand National.
The winning £1 bet on famous racehorse Red Rum had never been claimed.
Mr Holmes, from Houston in Renfrewshire, took it to bookmakers William Hill and they paid out 43 years later.
Through a shop code, William Hill found that the bet had been placed at odds of 11-1, meaning a payout of £12.
The bet was placed by Joe Robertson, who died in 1979 at the aged of 82.
Mr Holmes told the BBC Scotland news website: "Twelve pounds would have been a lot of money in those days. He must've turned the house upside down looking for it."
19. Council elections
There was a lot of interest in Scotland's local authority elections in May.
The fact that they were standing alone, without any parliament elections at the same time, and that they were coming at a time of high political uncertainty, meant that the results were closely watched.
The SNP finished as comfortably the largest party across Scotland's 32 councils and took Glasgow from Labour control.
The Tories also had a good day, increasing their total number of councillors by more than 160, including in areas that had previously been "no-go" for the party.
20. Not so sweet Caroline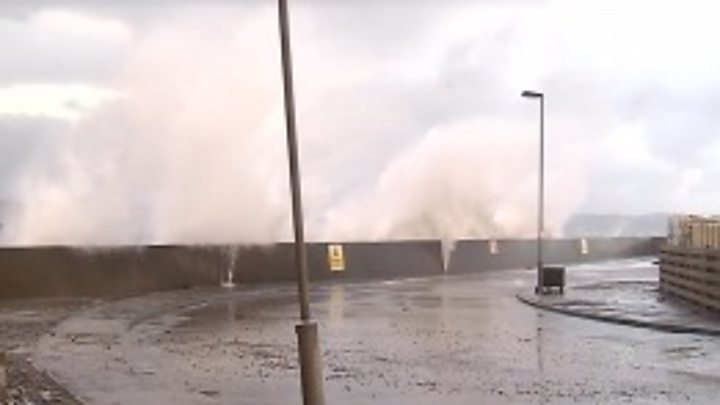 Caroline was the UK's third named storm of the autumn/winter 2017/8, after Aileen and Brian.
It struck at the start of December, disrupting rail and travel in the north of Scotland, with winds gusting up to 91mph in Caithness.
Storm Dylan is next.
Let's hope there is no Eleanor, Fionn, Georgina, Hector, Iona, James, Karen, Larry, Maeve, Niall, Octavia, Paul, Rebecca, Simon, Tali, Victor or Winifred.
[contf] [contfnew]
[contfnewc] [contfnewc]
The post Your most-read Scottish stories of 2017 appeared first on News Wire Now.